ETS Blog
November 17, 2017
The website has been reborn! It is now merged with the FreeRangeElectric.com web site. The ElectricTractorStore.com address and bookmarks to individual products remain the same. The new site is mobile-friendly, includes better PayPal/credit card integration, an updated shipping calculator and sets the stage for a new "look" and new products in the coming weeks! This has been in the works forever; GoDaddy's unannounced renaming of the database server which broke the store was good motivation to complete the move to HostMonster and merge the sites. Please call 540-941-1005 if you experience any problems with the web site.
September 15, 2016
The second half of September will be a special time for my family. The birth of our second child is expected and should new baby allow, we will be traveling to attend a wedding. All of which means the Electric Tractor Store will be closed for a bit. Orders may still be placed; shipping will be delayed. Exact dates are not yet known. Stay tuned!
May 29, 2013
With the advent of
our Facebook page
, I haven't said much here, but had to take time to thank John Robb for having me on his Resilient Strategies round table today. Learn more at
Reslient Communities
.
June 1, 2012
A quick recap of the past year: 12 KW solar electric system installed on roof of the original building. An adjacent building has been acquired to provide additional storage space, totaling over 7,000 ft2 on close to 1 acre. More items continue to be slowly added to the on-line store; decals have been the recent focus.
New hours: Tuesday - Friday, 9a-5p (expect Wednesday afternoons during the growing season).
During these times will respond to e-mails, phone calls, process orders, repair tractors, put more parts into production, etc.
Mondays are now reserved for special projects, ie catching up on tractor/conversion orders, which require uninterrupted focus.
March 1, 2011
We are starting to update our pricing. Yes, some prices are going up a little bit yet others happily are going down. In particular, the new batch of front battery bags came in at a much lower cost and we are passing along the savings. Many items, such as breakers and motor brushes, are in stock but still waiting to be listed on-line, so be sure to e-mail or call 540-941-1005 if you need something not listed.
April 2, 2010
We have arrived - our new location is Waynesboro, VA! The Electric Tractor Store is now part of Free Range Electric, LLC which over time will expand into other electric vehicle pursuits. For now there is a bit of cleaning and organizing to do.
2010
I am now posting blog type information on the ETS Facebook page. Check it out!

facebook.com/Electric.Tractor.Store
November 12, 2009
After much ado and a prolonged state of limbo, the move is finally happening. The Electric Tractor Store will continue (and expand) in the new location and I appreciate everyone's patience as we have limited internet access for a a week or so. More to follow.
September 23, 2009
A quick follow-up: The Pennsylvania Alternative Energy Fair was a blast! I'm already making plans to be there next year. A few snapshots from the "transportation" area are posted
here on FaceBook
. There were also many many vendors for solar, geothermal, green building, etc.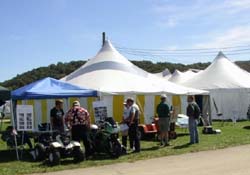 September 19, 2009
It's been a while since I wrote here... The restoration project mentioned in January was delivered and has been mowing all summer. An I-5 was retrofitted with an Alltrax controller, outfitted with a mowing deck and tiller, and is in use at a farm center in southern NY state. An E16 has been resurrected and will delivered in New Jersey this weekend.
In early August we went to the annual
NOFA summer conference
in western Massachusetts as always, where I ran a workshop on farm tractor conversions. At the end of August, we went to the "Power of DC" race weekend in Maryland (the Electric Tractor Store was a sponsor). And this weekend brings us to the Pennsylvania Alternative Energy Fair, where I will present a short talk Sunday morning.
All of this while continuing the parts business and working on our personal move - the house sale is nearing completion at last. I'm starting to use FaceBook as a place for picture albums. So far you can see
Power of DC Photos
and more will follow.
April 2009
The final result of the E15 restoration project after delivery: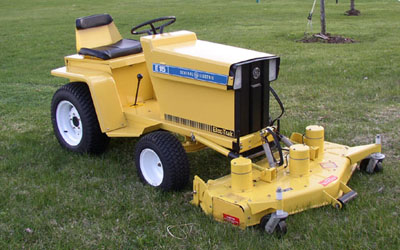 January 9, 2009
In a slightly anti-climatic moment, the ET restoration project made it's maiden voyage today. Due to the weather (a balmy 19 degrees, powdery snow over a layer of ice), I put on a set of old wheels to protect the good ones from the sand & salt, and the test drive was limited to doing laps in the driveway. A few details to sort out and brakes to adjust, but basically good to go! This is an E14.5 - that is, it is an E15 body with an E14 drive train. For the ET junkies, this makes a combination that GE never produced of things like the cast front axle and the permanent magnet drive motor. The mowing deck is also coming along, but not much use in the snow.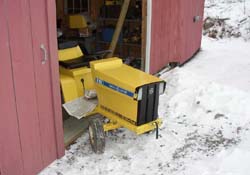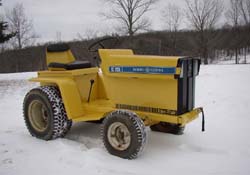 It seems that my posts in November/December disappeared or never made it up. I'll have to go find them. I'm also starting the transition to a new web host, and some changes to the store layout - maybe even a "real" (interactive) blog.
August 13, 2008
I went to the sheet metal shop yesterday for the battery boxes... and lo and behold, they are done, look great, and they fit! Also complete are the rear battery box covers (ie seat support) and front dash cover plates. All nicely powder coated. I am now working on getting them transported to my shop, and then amidst moving craziness, put the new parts to good use and complete some orders for some very patient customers. And complete an Elec-Trak restoration project for a super patient customer. The log jam has broken :-)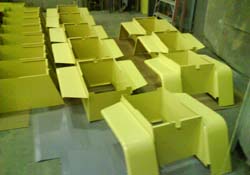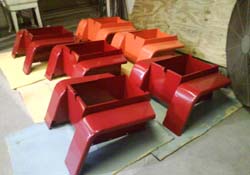 August 11, 2008
Packing for the move to Virginia is underway, and... time to prepare for the annual
NOFA Summer Conference
(same conference, new location). I and my wife had agreed to give presentations on "Electric Tractors" and on "Drive and Ride Electric" respectively, so we made the dash to Amherst for a 'relaxing' and educational weekend August 8-10. Like last year, I set up a display both for The Electric Tractor Store, although kept it a bit more low-key this time around with everything else going on. Judging by the workshop turnout, strong interest in EVs is alive and well (as is interest in quality local organic food... the primary purpose of the conference).
In the picture below, you can see the ETS display table with a "G" conversion kit and an Elec-Trak parked behind it. Also on display was an S-10 pick-up truck owned and converted by Jeff Skelski (who lives one town away and graciously agreed to display his vehicle while attending the conference) and in the background is my wife answering questions about her electric-assist bicycle.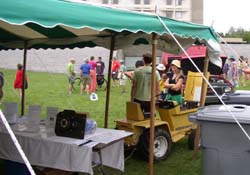 August 7, 2008
Through the new Long Island chapter of the
Electric Auto Association [EAA]
, I caught wind that "EVJerry" is traveling the country with his "Spirit of DC" plug-in hybrid, and would be in Boston when I was due to also be there. I was able to meet him and another EV-er on Monday in time to pose his spiffy car in front of the state capital building for picture taking. I then returned home while EVJerry headed north to tour the Vermont capital. He then returned south Wednesday evening to spend the night with I and my wife. Thursday morning we got the full tour of the car, and he got to see the ETS barn full of goodies here... Solectria's, a "G" conversion in progress, and apparently a few more Elec-Traks than he was expecting :-)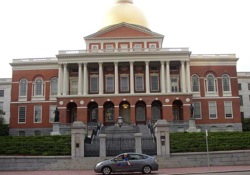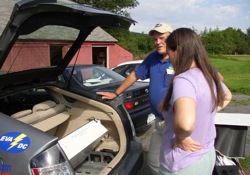 July 9, 2008
On a more personal note, my wife & I have found a place to live in C-ville... a one-year house rental while we learn the area. The Elec-Trak parts business will be based in a warehouse space located a bit outside of the city. Having these real estate matters taken care of now leaves a little more time to focus on EVs!
July 7, 2008
My whirlwind tour of more states then I can remember and more miles driven in the Honda Insight (plus a few in a big diesel pickup truck) then I ever dreamed of logging in a months time has come to an end. At least almost. With the help of my nephew and brother, the "Bill Gunn Collection" is now unloaded unto a warehouse space in Virginia. The picture just gives a little hint of what was involved.
As alluded to previously, I and my wife will be moving to Charlottesville, Virginia, where she is starting a new teaching job. In turn, Punsit Creek Designs and the Electric Tractor Store will be moving to Virginia as well, potentially with some name changes along the way.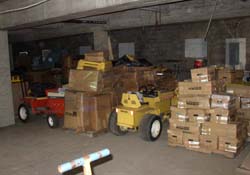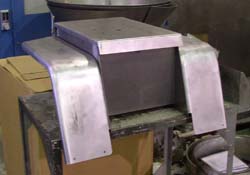 I'm now in catch-up mode. I was pleased to see the sheet metal shop progressing nicely, with the complete rear battery box assembly prototype completed. My apologies to those customers who have called or e-mailed in the past couple of weeks and not received an answer. Or received a discombobulated answer. This week, answers and orders will go out.
To those buying from the on-line store, it has come to my attention that the 'Parcel Post' option is not working. I will see if this can be fixed or else eliminated. Within a few months I will likely be switching the store over to different software and the postage calculator will be revisited.
June 21, 2008
Just as the days get nice and long, things are getting crazy - a good crazy. We (Punsit Creek Designs, LLC) are acquiring the Elec-Trak parts business from Bill Gunn of Technical Services, and gearing up to move to a new location in a few months. My wife & I took a week and a half to travel to Wisconsin and pack up over 20 tons of ET materials - fortunately we were just outside the regions with the severe flooding. Bill is a very personable guy, and we enjoyed chatting with him. When not busy packing, we (my wife and I) got a chance to explore some parks in the area, and see the giant fiberglass cow in Janesville, WI. Wisconsin is of course cheese capital of the world. And yes, we had plenty of local cheese while there, including fried cheese curds which is a new one to me.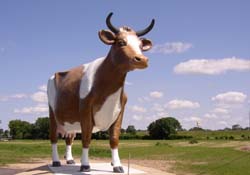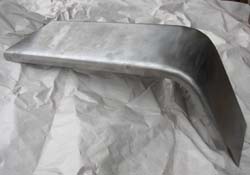 Just after returning, a sample fender arrived and it looks nice, so things should be good to go to finally get the replacement rear battery boxes made. And now I'm off to Virginia to look at where all the newly acquired materials will be stored.
February 23, 2008
More sheet metal parts are finally underway! Rear battery boxes, with and without fenders, and rear battery box covers are in production. All will be available in yellow, red, and orange powder coat finishes. I expect them within 6 weeks. I'll add these to the store front shortly for those who want to pre-order them. And add some other smaller items as well (relays, switches, etc).
Now back to figuring out why the internal combustion engine powered truck won't start...
November 26, 2007
Things have been busy, which is a good thing, but means this update is long overdue! I spent almost three weeks in late September and early October traveling with my wife in Oregon. In addition to seeing her family and a wedding, we got to see a number of EV-related goodies: the monthly PEVA meeting, the Alltrax facility and the Zilla facility. We also happened to be in town for the annual Green Buildings tour and checked out several houses with solar systems and a straw-bale house under construction.
Before traveling, I met with a client whose E15 I will be completely rebuilding over the winter. The frame has been sandblasted and powder-coated; it is shown below with new front panels attached. Yesterday an Allis Chalmers 'G' tractor arrived at my shop from Ohio, also pictured below. I will be working with a gentleman from Ithaca, NY to convert this to battery electric, for use this summer. I have a copy of the service manual... now to find an operators manual so I can learn how to start the gas engine (it cranks nicely) and try driving it around before taking it apart :-)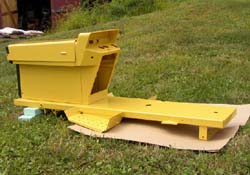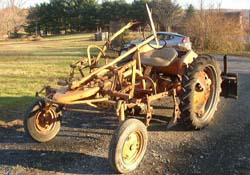 There is a snowblower and E8 in queue to finish much-delayed repairs (sorry Dave!), and a few more parts to add to the online store as soon as I get the time. I have a some pricing requests floating on various body parts that I need to go chase, especially as I need them for the E15 restoration project. The store front had been pretty quiet until this past weekend when several orders all came in at once; perhaps the Thanksgiving holiday weekend gives folks a chance to catch up on their own projects.
I'm currently busy trying to beat winter and get shelving made and lighting installed to organize the barn/workshop space. From my Punsit Creek Designs on-road EV work, a Solectria Force has been delivered to my shop and is awaiting repairs. Last week I paid my first site visit to a client who I'm helping convert his 1993 S-10 pick-up truck to all electric. The 'before' picture is below. The owner is using conversion parts from
Canadian Electric Vehicles
with the second shipment due in this coming week. He has had some body work done and a local mechanic is now removing the gasoline engine and components and rebuilding the clutch in preparation for the electric motor installation. This truck should be on the road before Christmas.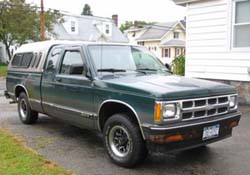 August 13, 2007
This past weekend was the grand "public debut", with an ETS booth at the annual NOFA summer conference in Amherst, MA. Friday was a wash out (ie rain) but Saturday and Sunday were gorgeous and plenty of folks wandered by between the various workshops. And even a cow was out for a stroll. There were plenty of "I never knew such a thing was made..." and "I didn't know it was possible..." comments along with much positive feedback on the ETs, the electric bike (my wifes) and the Electric G conversion concept which I'm now going to be pursuing more aggressively.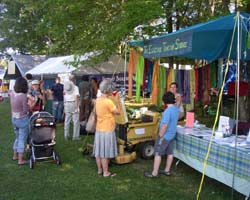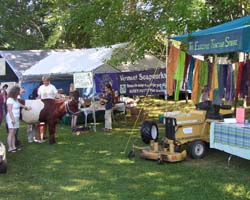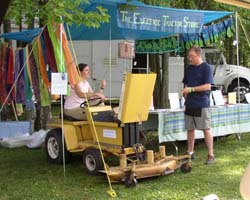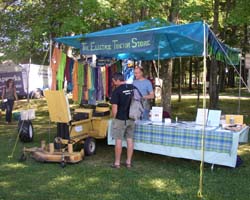 July 28, 2007
Now that I have a spiffy electronic scale (Deteco, Made in the USA), I'm going through and tweaking the shipping weights to more exact values.
And I've changed the settings so this page is now live for the world to see :-)
July 27, 2007
I've resolved my supplier for tires & wheels - these items will soon be live in the store. But I was bummed to find out that Carlisle is sending more and more of their molds and manufacturing business oversees to China. At least the bigger tires (rear wheels of the large frame Elec-Traks for example) are still made in the USA. If anyone knows of a North American manufacturer of small tires, please let me know!
July 15, 2007
Over the past few weeks I've had the pleasure to talk with a couple of past GE employees that were part of the Elec-Trak team (one by e-mail; one in person) and met yet another ET enthusiast. I hope to find the time to post a bit of history of this neat garden tractor on-line.
July 5, 2007
After quietly building the storefront for a while, this evening I made the first public announcement on the
Elec-Trak e-mail list
. And then watched the hit counter jump up over the next few hours :-)
All Content Copyright © 2007-2018
Free Range Electric, LLC
Waynesboro, VA 22980